People still are saying that electric cars aren't ready for the road, that they have too little range or are too expensive. Well, Tesla and Elon must be doing something right as the Tesla Model 3 was named the best selling luxury car in America in 2018. Tesla has already shown off its car making abilities with the Model S and X, but those are too expensive for the mass market. Now the more affordable Model 3 has come to dominate the masses.
2018 the first full year the Model 3 was in full scale production
What makes this such an achievement for Tesla is that 2018 was the first full year this car was in full scale production, whereas other competitor mainstays like the Lexus RX and the BMW 3&4 Series have been around for years and are from more reputable brands.
It's been estimated that in 2018 Tesla sold 138,000 Model 3's to US consumers, while Lexus sold only 111,641 RX's and BMW sold only 75,957 3 and 4 Series.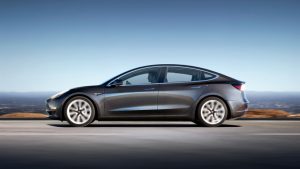 What is even more surprising is that electric vehicles only made up 1.12% of all vehicle sales. Now the base Model 3 starts at $42,900, not factoring in fuel savings and possible tax breaks. Since the price of electric batteries are continuing to go down, Tesla hopes to drop the price of the Model 3 to a base price of $35,000.
Competitors are scurrying to catch up. Luxury automobile companies, like Audi and Jaguar, have rebased luxury SUV's of their own, although their prices are competing more with the Model X rather than the Model 3. And Porsche plans to release the Taycan in 2020, although knowing Porsche the price will not be cheap.
Since no one is competing with Tesla in the affordable, all electric car market, it seems that Tesla will be dominating for the next few years with its Model 3 and Model Y SUV, set to come out in 2020. With Tesla's stock still fluctuating, only time will tell if Tesla is able to stand strong as other manufactures start making their own affordable electric cars. As of now we vote Tesla.